Bitcoin dips below $20000 as a number of factors continue to weigh on the crypto market. The volatility in the cryptocurrency market is continuing to have an impact on Bitcoin (BTC), which has seen prolonged capital outflows. 
In recent weeks, the Bitcoin price reached $24,000 after experiencing a modest bull run. Nonetheless, as the market closes for the weekend, Bitcoin's price is on a downward trend. 
The ongoing dip in market capitalization also continues to weigh on Bitcoin's price as it faces a fresh battle to sustain gains above $20,000. Thus, the largest cryptocurrency by market shed as much as 3.4% to $19,947.32 on Saturday, dipping below $20,000 for the first time since July 14. It managed to regain $20,000 on the day. As of writing, the sell-off has marginally eased, however it continues to hover around what seems to be an interim floor of $20,200.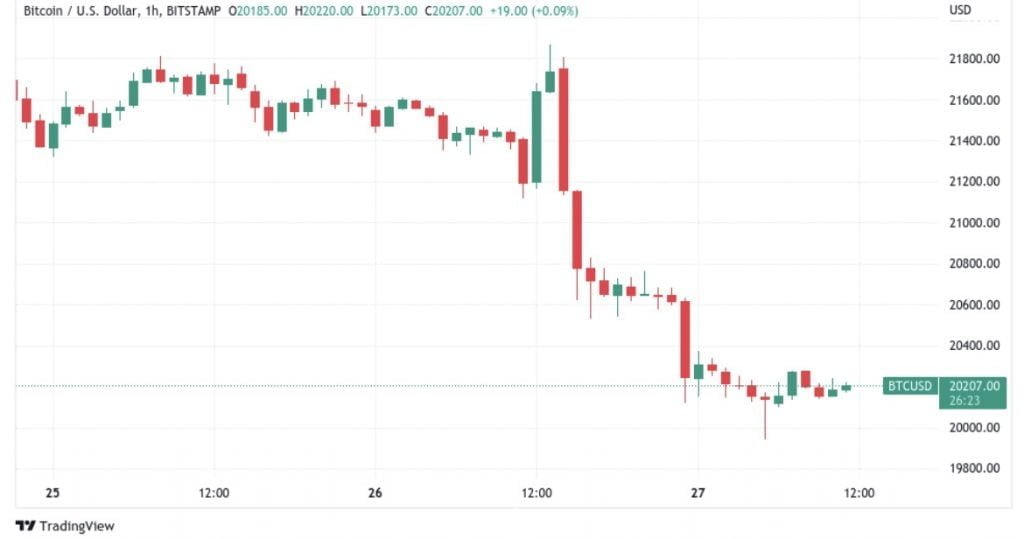 Bitcoin Dips Below $20,000 After Powell's Speech 
The Federal Reserve is tightening interest rates to tackle high inflation and the market has since reacted negatively to the last action. Powell warned that, "there will be some pain ahead" in upcoming months, as the central bank continues its battle with inflation.
From a technical perspective, the sell-off commenced as BTC failed to sustain a breakout of its $21,600 resistance level. Prices then went on to fall below another key level, this time at support of $20,800, on the way towards today's low. 
"Restoring price stability will take some time and requires using our tools forcefully to bring demand and supply into better balance. Reducing inflation is likely to require a sustained period of below-trend growth," Fed Chair, Jerome Powell, said in a speech at the annual Jackson Hole economic symposium. 
"Moreover, there will very likely be some softening of labor market conditions. While higher interest rates, slower growth, and softer labor market conditions will bring down inflation, they will also bring some pain to households and businesses. These are the unfortunate costs of reducing inflation. But a failure to restore price stability would mean far greater pain". 
Powell talked briefly during the event and discussed the significance of price stability. He stated that it is "the foundation of the economy" and that the economy will not benefit anyone without it. 
It is now possible to buy bitcoin in Dubai at our OTC desk. Besides buying bitcoin anyone, including tourists can sell bitcoin in Dubai.
Every 226th Person on the Planet Currently Owns at Least $1 in Bitcoin
Despite numerous challenges like market volatility, there seems to be progress in the number of people interacting with Bitcoin. Every 226th among us owns at least one dollar in Bitcoin. In particular, this equates to about 0.4% of the global population, meaning that every 226th person globally potentially owns at least $1 in Bitcoin. It can be assumed that the $1 holders are retail investors who make up most of the crypto market. At the same time, due to the relatively expensive nature of one Bitcoin unit, owning $1 of the asset is, therefore, more affordable to the majority.
U.S. Senatorial Candidate Expresses Support for Bitcoin
United States senatorial candidate for New Hampshire Bruce Fenton has extended his support for Bitcoin (BTC) while opposing any government involvement in regulating the asset. 
According to Fenton, the current monetary system is broken, citing the Federal Reserve policy of printing more money. He stated that Bitcoin's supply limit competes with the dollar. 
"We don't need politicians to tell us what money is throughout human history. For thousands of years, people have figured it out, whether it's gold or silver or Bitcoin, and the fact is that our money right now is broken. Politicians broke it. They have unlimited money that they can print from thin air without accountability," Fenton said. 

"Everybody should have the freedom to choose better money. If they choose to, I choose Bitcoin. I recommend other people choose something else as well because the dollar is a melting ice cube." 
If you think it is a good time to buy Bitcoin, you can easily buy Bitcoin in Dubai at a local OTC shop. In addition to buying Bitcoin, you will be able to sell Bitcoin in Dubai without any hardship just in a few minutes.
Disclaimer: All information provided in the content is for informational purposes only and should not perceive as investment, financial, or trading advice. Any investment decision you make should be a personal choice based on financial knowledge, experience, and market research.