Bitcoin starts a new week on shaky ground after its lowest weekly close in 2 years. Bitcoin price spiked to $17.000 as United States economic data continued to show inflation cooling. 
Plenty of uncertainty about the future remains for the price of Bitcoin amid fresh signs that U.S. inflation is slowing.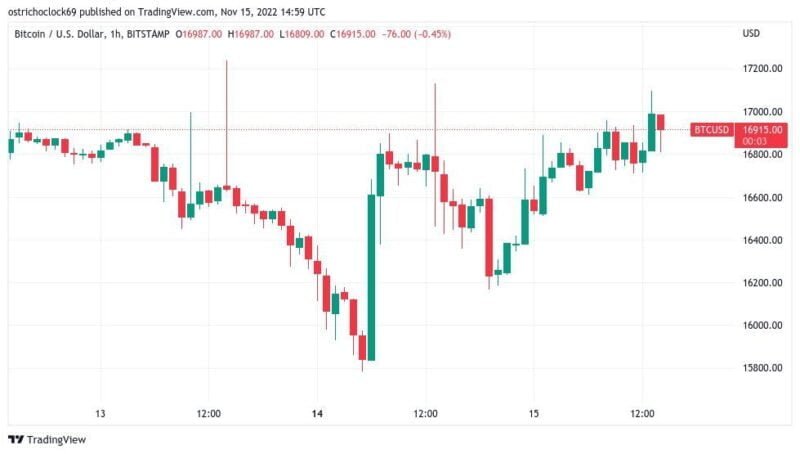 Bitcoin (BTC) is trading steadily right below the $17,000 level according to TradingView.com
Elon Musk: Bitcoin Will Survive The Crypto Winter
Two of Bitcoin's most famous advocates, Elon Musk and Edward Snowden, took to Twitter today to express their faith in the cryptocurrency's future. Elon Musk, the newly appointed CEO of Twitter, said "BTC will make it, but it might be a long winter," on Twitter early Monday morning.
Musk's reply was made in reference to a comment recounting BTC's previous high of $69,000 which asked where the price of bitcoin might be a year from now. Indeed, the price of BTC has drastically fallen, as has trust in the broader industry.
The billionaire, who recently acquired social media giant Twitter and is the co-founder of Tesla and SpaceX, has personally owned BTC and thinks it will rebound in the long run. Tesla's latest filing with the SEC stated that its holding reached almost $2 billion in BTC alone. Musk has proven its undeniable influence on the market and gained traction in the world of cryptocurrency.
Bitcoin Bull Michael Saylor Says FTX Crash Can Benefit BTC
"The FTX collapse is an expensive ad for Bitcoin," said former MicroStrategy CEO and Bitcoin (BTC) bull Michael Saylor.
In a tweet on Monday, Saylor argued that the only future for the crypto industry that is actually viable is "registered digital assets trading on regulated digital exchanges." Meanwhile, Saylor added that BTC is currently moving from weak to strong hands and that there is an "extraordinary" institutional and investor interest in the asset class.
Edward Snowden Feels Optimistic About Bitcoin
Edward Snowden posted a Bitcoin chart on Twitter, stating that he was "starting to feel the itch to scale back in" the market. Pasted upon the chart was a previous tweet from Snowden from March 13, 2020, expressing a similar sentiment. Snowden's old tweet is remarkable in that it was posted the day after Bitcoin infamously plunged from $8,000 to $3,000 due to market panic over Covid-19. 
"There's still a lot of trouble ahead, but for the first time in a while I'm starting to feel the itch to scale back in" -Snowden 
Canaan Will Continue To Expand Operations 
Chinese cryptocurrency mining firm Canaan will continue to expand operations despite the ongoing bear market and an associated drop in earnings, according to the company's CEO. Despite a downward trend in its latest financial report, Canaan does not plan to slow down the company's growth. On the contrary, Canaan continues to scale its operations across the world, including research and development projects as well as mining operations, CEO Nangeng Zhang said. 
"The launch of the new generation product reaffirms our confidence in the fundamental value of the Bitcoin ecosystem and reflects our constant efforts in the research and development of supercomputing technology," Zhang stated.
Salvadoran President Bukele says Bitcoin is 'the opposite' of FTX
Despite the backlash he previously received for purchasing BTC as markets crashed, Bukele cited the recent FTX collapse to explain why Bitcoin is different. "FTX is the opposite of Bitcoin," said President Bukele while explaining the inner workings of the Bitcoin protocol. The Bitcoin white paper highlights the importance of an immutable peer-to-peer network in achieving a trustless financial system.
Tone Vays Says Bitcoin Could Explode 450% Next Year
The veteran crypto trader believes that his predicted Bitcoin collapse will likely attract buyers who plan to hold BTC for the long haul.
"We can capitulate down to $11,000 and still hit $100,000 next year. Because a lot of Bitcoin is about to go into cold storage because people can buy it on the cheap."
History Of Bitcoin 
The first recognised cryptocurrency in the world, Bitcoin, was made available to the general public for the first time in 2009. To be more specific, the Bitcoin blockchain was officially launched when the first Bitcoin block, the genesis block, was created on Jan. 3, 2009. It remains the most popular and valuable digital currency in the world today. Cryptocurrency is a digital asset that may be used to exchange for products and is protected by cryptography, which uses challenging mathematical procedures. 
A mysterious individual, or perhaps a group of individuals, going by the name of Satoshi Nakamoto invented Bitcoin. Over the years, many people have stepped forward claiming to be the real Satoshi Nakamoto, inventor and creator of Bitcoin, but none could provide enough and logical evidence to support their claims.
The purpose of Bitcoin, according to Satoshi Nakamoto, is to build a brand-new "peer-to-peer electronic cash system" that is totally decentralized and has no central authority, as stated in Bitcoin's whitepaper, an academic document that contains information about Bitcoin. Some people claim that this currency was developed years ago in response to the 2008 global financial crisis to restore power to those who had been harmed by the greed of large institutions.
Some Bitcoin aficionados just view the cryptocurrency as a fun thing to trade and speculate with, while others think it might eventually replace fiat money as the standard of the online economy. There is no denying that Bitcoin has had a rapid growth in popularity since its launch, but the first 13 years have also brought to light a number of significant problems and deficiencies in the most well-known digital currency in the world.
What Is Bitcoin? 
Bitcoin is a type of digital currency that does not require centralized organizations like banks or governments. Instead, Bitcoin directly confirms user-to-user transactions over a peer-to-peer internet network.
Bitcoin is regarded as a store of value like gold and can be broken into smaller units called "satoshis" (up to 8 decimal places) for use in payments. This is due to the fact that the cost of a single bitcoin has significantly escalated since it was first introduced, going from less than a cent to tens of thousands of dollars. Bitcoin is denoted by the ticker sign BTC when it is being discussed as a market asset. 
When talking about cryptocurrencies, the term "decentralized" is frequently used, and it simply refers to something that is widely dispersed and lacks a single, central location or regulating authority.
Price Movements Of Bitcoin 
You may have heard about Bitcoin as a digital currency that skyrocketed in price in 2017. Bitcoin was priced at USD$900 in January 2017, peaked at $20,000 in December 2017 and then hovered around $5,000 – $6,000 in mid 2018. But let's elaborate that.
Bitcoin's visibility, appeal, and volatility all increased along with the currency's price. The cost of one bitcoin topped $1,000 by November 2013. With prices initially reaching $10,000 per coin in November 2017 and reaching roughly $20,000 in December 2017, bitcoin prices and trade volumes really began to soar in late 2017. 
Bitcoin again hit a record high on November 10, 2021, rising to $68,789 before falling to $64,995. 
Midway through December 2021, Bitcoin dropped to $46,164. As inflation concerns and the advent of a new COVID-19 variation, Omicron, continued to worry investors, the price began to fluctuate significantly.
Can I Buy Or Sell Bitcoin in Dubai?
Since there is no prohibition against cryptocurrencies in Dubai, you can trade-buy and sell bitcoin in Dubai for cash anytime you like. The answer to the question above is – "Yes, you can buy and sell Bitcoin in Dubai." If you just google these words, you will see many shops, and exchanges offering the same service. You can easily compare those shops to choose the right one to sell Bitcoin in Dubai.