Stablecoin giant Tether has been making a good recovery after experiencing a 20 percent decrease in market value from the previous quarter and Tether is on the verge of recovering its entire market value. The recent growth in Tether is thought to be partly due to regulatory pressures in the US, as the government is making efforts to address regulatory shortcomings in the cryptocurrency market. However, some investors may still be cautious and choose to sell USDT until further clarity is provided on the regulatory front. This uncertainty is affecting many cryptocurrencies, including Tether.
Tether was founded in 2014 and has made a huge impact in the cryptocurrency world ever since. USDT is a common trading instrument used on various exchanges and is preferred by many investors as a store of value. The pegging of Tether to the US dollar offers investors a hedge against market fluctuations.
However, Tether's history has also raised some investors' concerns about its safety and the overall stability of the market. In particular, the controversy over the authenticity and transparency of Tether's financial reserves has shaken the confidence of some investors in USDT.
USDT Makes Strong Recovery After Losses From TerraUSD's Crash
Tether's stablecoin, USDT, is taking steps to regain its market value, which it lost after the recent crash of TerraUSD.
According to data tracking reports from CoinMarketCap, the Tether stablecoin operator has total assets of approximately $81.4 billion in support of the USDT token as of April 21. That figure hit a peak of around $83 billion in May of last year with the collapse of TerraUSD, driving investors away from all cryptocurrencies.
Tether's assets plunged almost 20 percent in the second quarter of last year. However, the recent resurgence of Tether may have a partial effect from regulatory pressures in the US. The US government is making an effort to address regulatory shortfalls in the cryptocurrency market, and this is affecting many cryptocurrencies, including Tether.
This recovery, recorded by Tether, is a testament to the stablecoin's important role among cryptocurrencies. USDT, the most traded crypto asset worldwide, aims to maintain a one-to-one basis with the US dollar by relying on its cash and cash equivalent reserves.
As a result, Tether is on the verge of recovering its entire market value and Tether's recovery is causing many crypto investors to be hopeful. However, the stablecoin is being watched closely by regulators.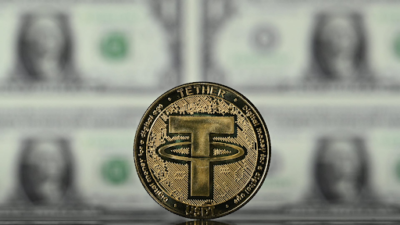 Tether (USDT) Nears All-Time High Amid Crypto Rally
USDT briefly fell below $1 when TerraUSD crashed, and FTX failed in November. The quality of the reserve assets used by Tether has been questioned in the past, and global regulators have turned their eyes to stablecoin issuers. However, Tether has this year benefited from banking problems that plagued rivals such as Circle's USD Coin and the rally that boosted market-leading Bitcoin by nearly 70 percent. 
Tether amount usually rises during rallies, while it is flat or modestly falling in bear markets. Large investors are also exiting profitable trades and investing their income in Tether. 
According to Henry Elder, Wave Digital Assets' head of decentralized finance, major investors, popularly known as whales, are quitting lucrative transactions and investing their profits in Tether.
"We are seeing a wholesale shift from USDC to other, less US-based stablecoins. This will continue as long as the US is unreasonably hostile to crypto in general and stablecoins in particular."
On Thursday, Tether (USDT) had a market capitalization of around $81.5 billion. This is the biggest market capitalization level since Terra's demise in May 2022. USDT needs just $2 billion to beat its all-time high of $83.4 billion, set on May 1 of last year.